Selection of Current Transformers for Metering and Measurement Applications
How to select the right Current Transformer?
Current Transformers perform two critical roles in the power supply ecosystem. They are used as current measurement devices and as protection relays. However, there are different types of Current Transformers and several factors govern the appropriate choice of the Current Transformer.
The objective of this study is to understand the key considerations before choosing the right Current Transformer for a particular application.
If you are looking to read about the basic function of Current Transformers, compliance standards and applications, read our earlier blog here.
Current transformers are employed to measure power circuit currents using measuring instruments such as Ammeters, Kilowatt-hour meters and power factor meters. They work with a high degree of accuracy but within the rated current range. They must have a specified accuracy class as in IEC 60044-1. The secondary current is substantially proportional to the primary within a working range of about 5–120% of its primary rated current. The accuracy class required for various metering applications is listed below: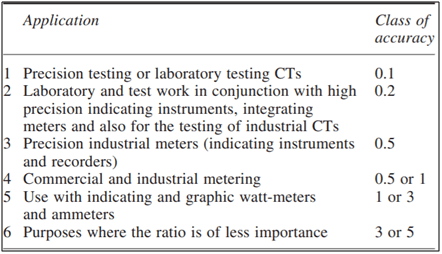 Two new accuracy classes have been developed by IEEE C57.13.6 to accommodate the shift towards electronic relays and meters from the traditional induction devices. Nowadays, manufacturers have been improving accuracy of instrument transformers to take advantage of the lower impedance of the devices.
If input current exceeds the rating, the metering CT will saturate thereby limiting the current level within the measuring instrument. Core materials for this type of CT typically have low saturation levels, such as nano-crystalline. They are generally available in wound or ring type.
KWM Series – Wound Primary Measuring Current Transformers from KSI

KWM Series are a range of Measuring Current Transformers. These CTs measure current flowing through the primary conductor by converting them to measurable value.
Features:
Designed as per IS-16227, IEC-61869, C-57 or Customer specific requirement
Approved and widely used by various State Power Supply companies
Requires little or no maintenance
Tested and certified at CPRI Bangalore, India (NABL)
Secondary Current 5A or 1A
Primary Current up to 5000A
Secondary Burden 1VA to 30VA
Dual Ratios can be offered
High accuracy on request
Mounting arrangement on request
Construction Styles Offered :

Varnished Fibre Glass or PVC Tape Insulated
Resin cast
ABS or Glass Filled Nylon Moulded
Learn More: KWM Series – Wound Primary Measuring Current Transformers
KRM SERIES – Ring Type Measuring Current Transformers from KSI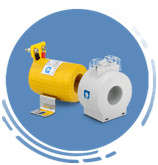 KRM Series are a range of Measuring Current Transformers. This series of Ring type, also called window type, allows bus bars or cables to be passed through the CT and act as a Primary for the CT.
Features:
Designed as per IS-16227, IEC-61869, C-57 or Customer specific requirement
Approved and widely used by various State Power Supply companies
Requires little or no maintenance
Tested and certified at CPRI Bangalore, India (NABL)
Secondary Current 5A or 1A
Primary Current up to 5000A
Secondary Burden 1VA to 30VA
Dual Ratios can be offered
High accuracy on request
Mounting arrangement on request
Construction Styles Offered :

Varnished Fiberglass or PVC Tape Insulated
Resin cast
ABS or Glass Filled Nylon Moulded
Learn more: KRM SERIES – Ring Type Measuring Current Transformers
Read related blogs on
Customized Current Transformers for Industry Applications
Summation Measuring Current Transformers for Power Systems
Selection of Current Transformers for Protection Relays or Tripping Relays