Why are isolation transformers used in UPS for data centers?
DC power supply systems such as the UPS are widely used as the source of power for modern-day IT and telecom applications. Public digital infrastructure such as IT Data Centers, mobile towers, or digital home applications such as laptops and modems rely on UPS devices for safe, uninterrupted, 24X7 DC power supply. Sometimes we may wonder why are isolation transformers used in ups systems or what is the role of an isolation transformer in UPS? Isolation transformers play a critical role in these DC power systems as they safeguard the expensive and sensitive equipment from the irregularities of the AC mains power supply.
KS Instruments is a market leader in Isolation Transformers for Data Centers, and our products find wide application in IT Data Centers and telecom installations across the country.
UPS configuration for data centers
The basic function of a UPS device is to ensure an "always-on" power source. It provides short-term power when the input power source fails. The on-battery run-time of most uninterruptible power sources is relatively short (only a few minutes) but sufficient to start a standby power source or properly shut down the protected equipment. It is a type of continual power system. However, it is constantly subjected to all the "noise" from the electrical grid at the input side. If the noise reaches the main equipment, it might cause damage to the equipment, increase maintenance cost due to excessive wear and tear. It may even harm the humans who come in contact with the devices.
An IT data center is the physical infrastructure that houses sophisticated computer systems and associated components, such as networking and storage devices. Since IT operations are crucial for business continuity, it generally includes redundant or backup components and infrastructure for power supply, data communication connections, environmental controls (such as air conditioning, fire hazard control), and various security devices. A large data center is an industrial-scale operation using as much electricity as a small town.
Why do we need an isolation transformer in UPS?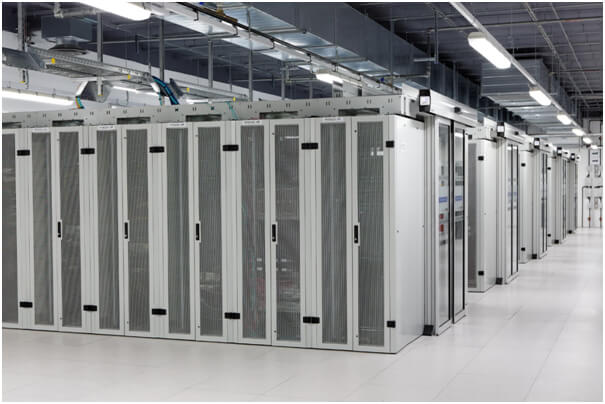 Isolation transformers in data center UPS systems
In earlier days, a DC power supply design included an internal transformer. These transformers would perform several protection functions as they would act as a barrier in between the primary side (the supply line) and the secondary side (connected equipment). However, adding a permanent transformer to the UPS device adds to its overall size, weight and design complexity. Here comes the role of isolation transformers for UPS
Nowadays, transformer-less UPS devices are more prominently used. There are basically two types of Transformer-less Power Supplies – Capacitive or Resistive. Instead of fitting the isolation transformer within the body of the UPS, it is connected externally. This enables us to install the transformer in a more optimal part of the power path, explaining the need for an isolation transformer in UPS
UPS system configuration can be done in three ways – single mains, dual mains, and single mains without bypass. These configurations are differentiated by the presence of a static bypass and how it is connected. The circuit diagrams below indicate the position of the transformer in the UPS configuration in all three types.

Single mains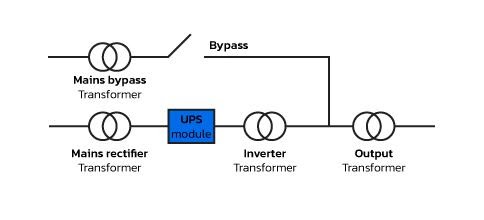 Dual Mains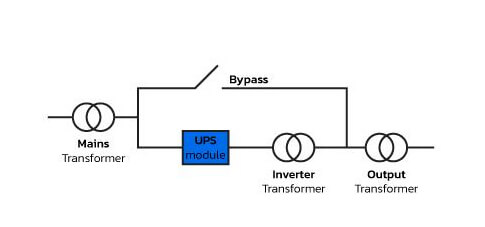 Single Mains without  Bypass
The critical functions that an isolation transformer performs in safeguarding a UPS include:
Isolation of the output from the source and its associated noise
Step down of voltage from the supply line to suit the equipment under the protection
Reduction of harmonic currents within the UPS (blocks 3rd, 9th, 15th, other multiples-of-three harmonic currents)
Providing impedance to limit fault current
UPS supply may be on a high resistance grounding system and the loads require a solid grounding
Creating a local ground-bonded neutral
Safeguarding against extremely high or low mains voltage
Conformance to international standards and specifications for equipment safety
In the specific application of UPS usage in IT data centers, the isolation transformer installed along with the UPS supports the following critical functions:
To change the different mains grounding systems to what the data center IT equipment requires
To set up a new neutral connection when the mains neutral suffers from poor power quality or frequent disconnection
To combine two sources without connecting their neutral wires together
To prevent circulating currents that may cause Residual Current Detectors (RCD) or other safety systems to activate unnecessarily
Isolation Transformers from KSI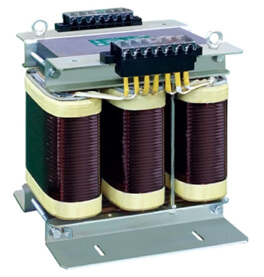 Isolation Transformers
There is unprecedented growth in demand for a stable and uninterrupted power supply in India, thanks to our rapidly growing industry and public infrastructure. A majority of the world's corporate giants are setting up their IT operations in India across business domains such as Banking & Financial Services, IT / Telecom, Health care, Automotives, Defence. Establishing Data Centers and UPS systems for the same is a critical need for these industries. Bangalore is the IT hub of India. So the demand for Isolation transformers is increasing in this particular area.
Isolation Transformers are a significant part of the UPS configuration. As a result, transformer products are also seeing a major upward demand surge in recent years. KS Instruments is playing a significant role in meeting this demand. KS Instruments is the major isolation transformer manufacturers in Bangalore
KS Instruments is a market leader with the Instrument Transformers product line, owing to our commitment to continuous investments in R&D, Quality Systems, and adherence to international Testing Standards. Our strong technical support team for post-sales repair, replacement, and maintenance ensures high levels of customer satisfaction.
Low Tension Control & Power Transformers – A Control Transformer is an Isolation Transformer designed to provide a high degree of secondary voltage regulation (stability), during the short period of an overload condition. This period is typically referred to as inrush. These transformers supply power to control and/or auxiliary equipment not intended for direct connection to the main circuit.
This is an ideal transformer for stepping up or down the voltage or for installations that require a galvanic partition between the primary and secondary voltage. E.g. UPS, Electric motor, compressor, cooling plants, automatic washing machines. They're intended for change of voltages with galvanic isolation, attenuation of line disturbances.
Key features
Manufactured with electrical steel with low losses and copper windings
Compact and rugged in construction
Free standing, floor mounted models available
Metal casing with sufficient ventilation
High efficiency, reliability and accuracy
High insulation values
Toroidal type of transformer available for medical industries
Customizable as per client specific requirements – with any voltages & taps, with thermal switches, with MS or SS housing of any particular IP rating.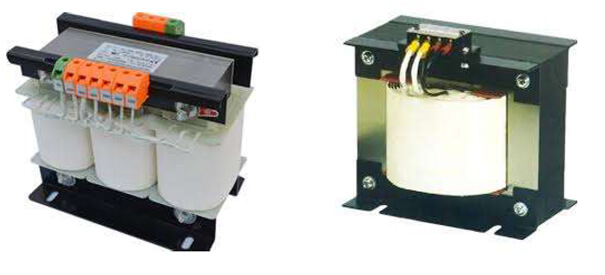 Control Transformer
Technical Specifications
Power Rating: 1VA to 10KVA Single Phase and Three Phase
Regulation: <5%
Insulation Resistance: 500MΩ
FREQUENCY:50-60Hz
Efficiency: 95%
Breakdown Voltage:3KV
INSULATION: CLASS B
Ambient Temperature : 45 ºC
Duty Cycle 100%
Constructed with high-quality silicon steel (CRGO/CRNGO) lamination to minimize core losses and increase efficiency
Option available – CRCA (MS) sheet enclosures for the cabinet with IP20 protection & powder coating
Option available – Dry type, Resin Cast and Vacuum impregnated type of transformers
Option available – Control Transformer with Protection Fuses for over Load
Applications
KSI Control transformers are available in a variety of primary and secondary voltage combinations. They find wide application in the following industries:
Industrial control equipment
Automation industries
Machine tooling industries
Motor controls
Instrumentation
Low voltage lighting
Industrial Plants
Office buildings
Medical equipment
Telecommunication equipment
Computers & peripherals
CNC machines
Isolation Transformers for UPS used in Data Centers – Isolation Transformers from KSI are highly suitable for use in IT data centers to support the robust functioning of the UPS installations. Our products are compact size and rugged. They require very little on-site maintenance, making them ideally suited for 24X7 data center operations.
About KS Instruments
KS Instruments is a leading player in the design and manufacturing of LT Current and Instrument transformers for measuring and protection applications. Our transformer product range finds wide application in various industries such as automotive, medical, power supply and industrial automation.
KSI has a wide range of catalogue products to suit all needs. These products have been validated by our clients for high efficiency, robust performance and long service life.
Our transformers product range are tested and certified by the reputed CPRI, Government of India. KSI is also approved by reputed consultants across the country. KSI is approved and widely used for metering applications at various State Government power supply companies such as BESCOM, HESCOM, CHESCOM, and MESCOM.
Despite a wide range of catalogue products, in several cases, a customer application may demand a custom solution. With the backing of a strong design team and an in-house testing facility, KSI can offer custom solutions to various design challenges with ease.